The Values & Influence Assessment™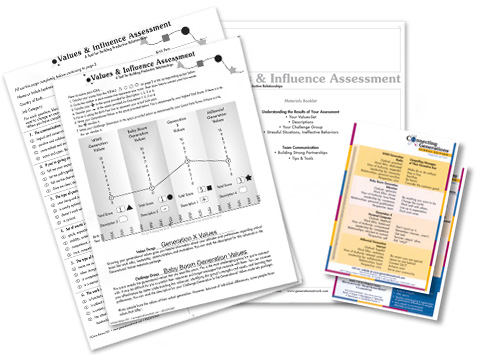 $35.00 – $10,000.00
1 Assessment & Supporting Materials: $35
100 Assessments & 100 Sets of Supporting Materials: $3000
500 Assessments & 500 Sets of Supporting Materials: $10,000
Description
Interpersonal Communications Tool
Available in paper and digital formats.
Single Assessment and Supporting Materials: $35
100 Assessments & 100 Sets of Supporting Materials: $3000
500 Assessment & 500 Sets of Supporting Materials: $10,000
Package includes:
Assessment
Scoresheet
18-Page Materials Booklet
Desk Reference
The VIA is a powerful interpersonal communications tool that focuses on values and the impact they have on results. It goes beyond birth year to assess personal values. Participants complete a brief, one-page questionnaire online before the session or on paper during the session. Their personalized score sheet graphs their four scores and displays their primary values group and their challenge group.